New Patients at Shipley Chiropractic
Your First Visit
When you enter Shipley Chiropractic , our friendly front office staff will greet you and make you feel welcome. You'll notice right away that we treat you and your family more like dear friends than simply patients. We have a coffee bar with snacks, a device-charging station, and toys for the kiddos—we want you to feel right at home here.
You'll meet with Dr. Shipley and discuss what's been going on with your body and your health, and she'll listen without interrupting. Then she'll conduct a thorough exam and take digital X-rays to help pinpoint the cause of your problem.
In most cases, we do not adjust at this visit. You may receive some soft tissue therapy, such as electrical muscle stimulation and ice or cold laser. These treatments help reduce inflammation and swelling, so when we do your adjustment at your next visit, the tissues will be less irritated and your body can hold the adjustment longer.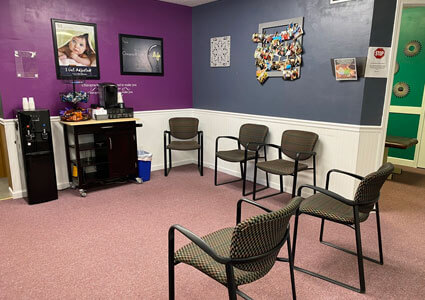 Your Second Visit
At this visit, we'll let you know what your insurance covers and how much you'll be responsible for. Dr. Shipley will go over her report of findings, and explain how she thinks our care can help you. If you're ready to begin care, you'll receive your first adjustment, along with any therapies necessary for your condition.
The first and second visits are approximately 45 minutes long. Subsequent visits will be 20-30 minutes, depending on your specific treatment plan.
The Time to Start Is Now
We encourage you to begin care as soon as possible before your problem worsens and you lose more function. We make it as easy and affordable as possible to get the results you need—we're in-network with most major insurances and Medicare, and we accept credit cards, cash, Care Credit, as well as flex spending and health savings accounts.
Contact us today to book your appointment.
CONTACT US »

New Patients at Shipley Chiropractic | (618) 931-2001