About Shipley Chiropractic
Improving the Health and Happiness of Our Community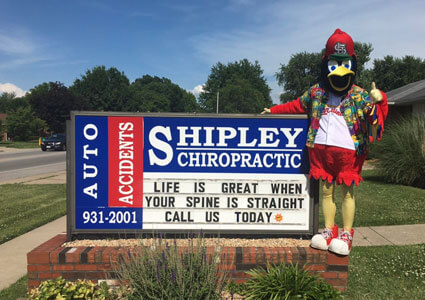 Our mission at Shipley Chiropractic is to improve the health of our entire community by bringing chiropractic wellness to the general population. It's estimated that only approximately 16% of people receive chiropractic care, and we aim to increase that to 80%.
We treat people who come to us in pain, and then we help them achieve improved wellness, so they can feel better, move better and perform better. When you're in pain, you're not as happy—we want to improve the Granite City community by helping everyone feel their best, so they can be their best.
We will always help you in some way. Even if chiropractic is not the right approach for your condition, we will help you find the best place for you to get care. We'll never let you walk out the door feeling hopeless about your condition.
Our History
Dr. Laura Shipley's father was a chiropractor, and he practiced in this same location. Dr. Shipley bought the practice from him when she graduated from Logan University in 2006, and has been carrying on the family tradition ever since.
We focus on great care combined with an outstanding patient experience—we want you to feel better emotionally, as well as physically. We create fun contests and activities for adults and kids, all focused on the importance of regular chiropractic care for the entire family to ensure you keep feeling your best for life.
MEET DR. LAURA SHIPLEY »
Post-Surgical Care
Many of our patients are surprised to learn that we can help them even if they've already had back surgery. Chiropractic is a safe way to help recover from surgery, and to help minimize the need for future surgeries. We can also help you if arthritis has already been diagnosed. While getting chiropractic care sooner is always better, getting care later is better than never.
Start Today
Our office is truly family-friendly, and we look forward to welcoming your family into our care. Contact us today to book your appointment. Ask about our new patient special!

About Shipley Chiropractic | (618) 931-2001