Meet Dr. Laura Shipley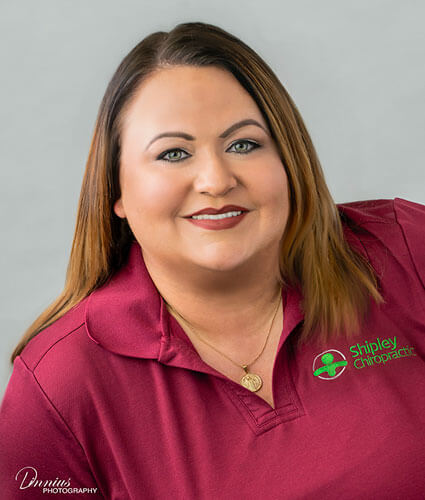 A Family Tradition
Dr. Shipley worked as a Chiropractic Assistant in her father's office for two years while she was in college, majoring in business. She enjoyed interacting with patients and loved seeing the results they got with chiropractic care. Her mother saw how good she was with patients and continually encouraged her to pursue chiropractic as a career. However, Dr. Shipley was squeamish about anatomy classes, and she didn't want to "follow in her father's footsteps."
During Dr. Shipley's senior year, her mother passed away. Losing her mom sent her into a tailspin, and she realized she hated her major. She knew she loved working with patients at her dad's office, so she scheduled a visit at Logan University—and enrolled in the next session.
She received her Doctor of Chiropractic from Logan in 2006 and purchased Shipley Chiropractic from her father. She received extensive post-graduate instruction, including
ICPA certification in pediatrics
Certification in whiplash treatment
Certification in sports injury care
Prenatal and postnatal training
Active Release Techniques® (ART®) training
The Right Choice
Seeing patients who have been unable to move or enjoy life regain their health and mobility through chiropractic care reaffirms Dr. Shipley's decision every day. She loves seeing patients' personalities come to life as they start to heal and feel better.
Patients can tell immediately that we like to have fun at our office, but that we're serious about their care. Dr. Shipley strives to make the patient experience happy and enjoyable, so people leave the office feeling better physically and emotionally.
EXPLORE OUR SERVICES »
Improving Quality of Life
Dr. Shipley helps patients understand that chiropractic care is about more than just pain relief. It offers better mobility, more energy, improved focus and mental clarity—in short, it enhances quality of life.
Away From the Office
When she's not at work, Dr. Shipley enjoys traveling with her fiancé to visit friends and family all over the country. She goes hiking and exploring, and volunteers with an organization that works with food insecurity in the community. She's an animal lover and a big fan of Disney.
Book an Appointment
Contact us today to schedule an appointment with Dr. Shipley!

Dr. Laura Shipley | (618) 931-2001